Disc Brushes for Medium to Heavy-Duty Surface Finishing and Deburring
Turbine Style NamPower Abrasive Disc Brushes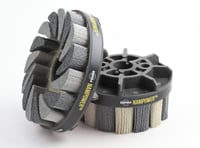 Do you need disc brushes that cut faster, last longer, and provide shorter cycle times? For medium to heavy-duty surface finishing, edge blending, and burr removal, turbine-style NamPower nylon abrasive disc brushes are the right choice. For lighter-duty applications, choose dot-style NamPower tools instead.
Turbine-style NamPower abrasive disc brushes have flexible nylon abrasive filaments and a fiber-reinforced thermoplastic base. To produce maximum burr removal rates and an optimum surface finish at the same time, these industrial brushes feature a combination of ceramic and silicon carbide abrasive. Depending on the degree of surface improvement that's required, choose from four different grit sizes.
NamPower turbine-style abrasive nylon disc brushes come in five different diameters and include smaller-diameter NamPower tools for hard-to-reach areas, small part sizes, and planetary head mountings. All NamPower nylon abrasive disc brushes are available in two trim sizes for just the right balance of aggressiveness and flexibility.
Which type of turbine-style NamPower nylon abrasive disc brush do you need for your medium to heavy-duty deburring, edge blending, or surface finishing application? Download the NamPower Resource Guide now, and learn how to choose and use these high-performance nylon abrasive brushes. Complete the form to get started.