Miniature deburring Tools with All Stainless Steel Construction
Series 81A Miniature Brushes for Cross-Hole Deburring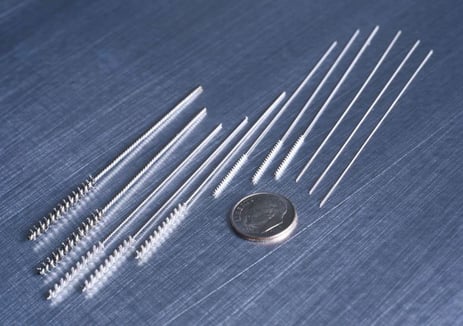 Series 81-A brushes from Brush Research Manufacturing (BRM) are miniature deburring tools that feature an all-stainless steel construction. Unlike other metal deburring tools, these small brushes won't corrode or leave after-rust deposits on finished parts. Plus, Series-81A brushes are available in a convenient kit.
Choose Series 81-A brushing tools for workpieces made of cast iron or steel. These miniature deburring brushes are great for removing chips, breakout burrs, micro burrs, and other surface imperfections that can affect part quality and consistency.
Series 81-A brushing tools have an overall length of 3". When ordering, specify the brush diameter. These brushing tools can be driven by hand, or used under power.
Learn More
Complete the form and download the Miniature Deburring Brushes Brochure for more information about Series 81-A tools, including brush sizes.