Parts wash brushes with
straight handles
straight-handled brushes for auto parts cleaning

BRM parts wash brushes with straight handles provide leverage, control, and stability when you're cleaning auto parts above your head, or directly below you on the ground. Parts wash brushes with ergonomic handles are also available, and help reduce wrist fatigue.
BRM parts wash brushes have straight, injection-molded polypropylene handles that are ribbed so that they're easy-to-grip and won't slip out of your hand. Polypropylene plastic is lightweight, and both corrosion- and impact-resistant. All of the brush's metal parts are made of either stainless steel or brass for corrosion resistance.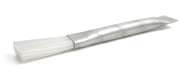 BRM also supplies a straight-handled parts wash brushes with an aluminum scraper. This inexpensive but versatile brush is one of our most popular tools, and is available in a 3/4" width with a paintbrush-style design.
All BRM parts wash brushes feature long-lasting filaments that resist solvent-type cleaners. Parts cleaning brushes with a soft tip are ideal for cleaning wheels and lug nuts because they let auto detailers remove dirt and debris from hard-to-reach places while protecting delicate surfaces such as clear coats.
Some straight-handled brushes are equipped with flow-control so that users can adjust the amount of cleaning fluid that's applied. Others support flow-through cleaning. An optional 2-ft. tube is available for parts washer nozzles. Tube fittings are designed for use with Enco, KleerFlo, SafetyKleen, and other popular brands of circulating parts washers.
Would you like to learn more about BRM parts wash brushes with straight handles? Watch the video, and download the brochure.