Improve part productivity with
BRM's New nampower ceramic end brushes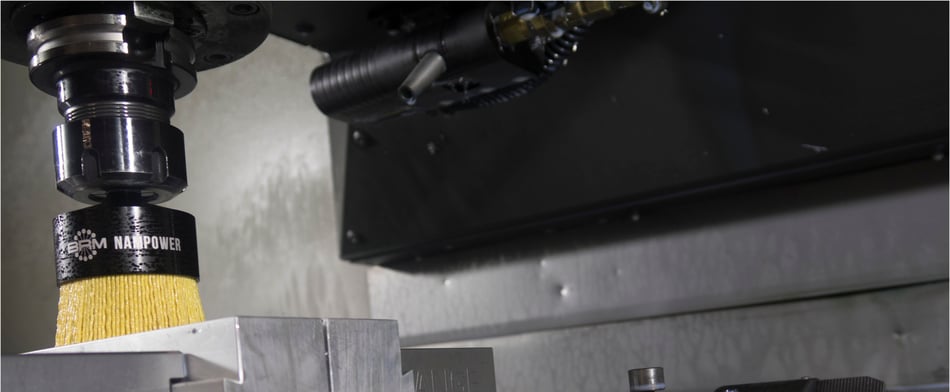 Brush Research's Nampower line of brushes have always stood for the best in abrasive finishing and deburring technology providing incredible performance and outstanding value. Now this high volume production grade line is growing up and getting smaller. These all new brushes are available down to 1/2" (12.7mm) in a solid end brush configuration. The machined aluminum and hard coat anodized cups hold state of the art ceramic abrasive filaments that is proven to last 3-5 times longer than the competition. The wide range of grits available enable the tools to accomplish even the most challenging of deburring and surface finishing or prep applications. The long shank length lets you get down into the work wherever you need it and the tool is ready to be loaded directly into your machining center to get to work immediately with no special adaptors needed.
applications and benefits
| | |
| --- | --- |
| Typical Applications | Common Materials |
| Finishing | Aluminum |
| Deburring | Carbon Steel and Stainless Steel |
| Edge Break | Titanium |
| Surface Prep | Brass |
| Blending Out Machining Marks | Bronze |
| Homogenize part sufaces | High Nickel Alloys |
Selecting brush diameter and grit
The brush diameter should ideally be larger than the cutting tool used to machine the part. Grit selection should be dependent on the work to be performed and the required finish. The general rule is to choose the coarsest grit possible while giving you the desired finish needed. A fine grit tool used on a higher starting finish will have less effect on the overall finish improvement. Coarser grits are recommended on heavier burrs or when a fine finish is not required.
suggested operating instructions
Brush Depth
Depending on material hardness, Nampower brushes can achieve excellent brushing efficiency with an interference of .004 - .093. We recommend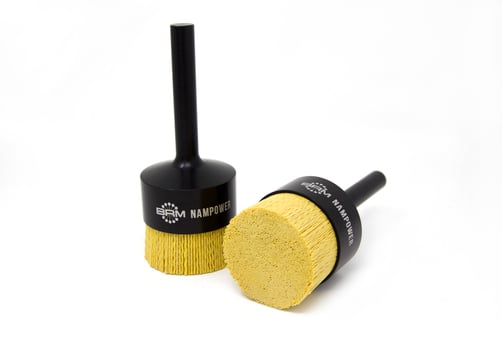 starting at a lower pressure and increasing brush depth and penetration until you reach the desired result. Spindle speed is usually decreased with increased depth of interference so the filaments can conform smoothly to the contours.
Lubrication
We recommend the use of a soluble oil to avoid the brush filaments from loading and smearing and to obtain a better finishing.
Suggested Speeds
Speeds listed in the table below are a guide to be used in establishing the optimum operating RPM. We recommend starting at a lower RPM and increase the speed until you have reached the desired results. RPM should be limited to prevent brush flaring. If the brush begins to flare, reduce the RPM. Depending on the material hardness, feed speed should be adjusted accordingly. Slower rates with harder materials and faster rates with softer materials.

feed rate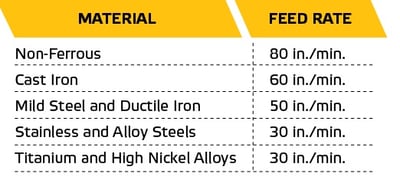 Feed rate is affected by many factors including burr size, work piece material, surface contours and finish requirements. Contoured surfaces are processed at slower speeds and greater depth of interference than flat surfaces. Starting feed rates between 30ipm and 80ipm are recommended but the final feed rate is application specific and must be developed through deburring trial.
.