Less Vibration, better performance, Flow-Through Cooling , Longer Life
lightweight tool holders for Larger-Diameter nampower abrasive disc brushes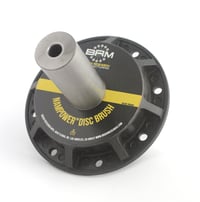 Lightweight tool holders for larger-diameter (100mm, 125mm, 150mm) NamPower abrasive disc brushes reduce stress on machine spindle bearings, improve disc brush performance, and extend brush tool life.
Importantly, these lightweight tool holders also support flow-through cooling systems. Because coolant is dispersed from the disc brush center instead of from the edges, cut depth is increased and heat generation is reduced.
The base of each NamPowertool holder is made of a lightweight thermoplastic that's reinforced with carbon fiber material for vibration damping. By significantly reducing disc brush vibrations, these lightweight tool holders support more consistent brushing action and longer brush tool life.
NamPower lightweight tool holders for larger-diameter disc brushes also feature a precision-ground, steel shank that supports brush tool use with automated machinery and equipment. This 25-mm shank is available in both standard and side-lock configurations. Visit the BRM website to place your order today.
Would you like to learn more about NamPower technology? Complete the form to download the NamPower Resource Guide, and watch the short video below.