Edge Deburring and Edge Radiusing
NamPower Composite Hub Wheel Brushes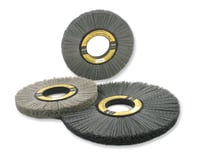 Are you looking for wheel brushes for machined parts such as steel shafts, gears, turbine blades, or extrusion cut-offs? NamPower composite hub wheels provide a highly-effective alternative to wire wheels and non-woven abrasive brushes.
Designed for machine-based and offhand deburring, NamPower composite hub wheels remove sharp edges from parts and create the right edge radius. To balance aggressiveness with flexibility, these nylon abrasive brushing tools are available in 6-inch and 8-inch diameters.
NamPower composite hub wheel brushes are built with nearly-indestructible cores and a superbly balanced construction. Abrasive-filled nylon filaments are set into molded cores, allowing higher filament densities and putting more cutting tips at the point of attack. The result is less filament breakage, longer brush wear, and better performance. For surface finishing harder materials, choose NamPower diamond abrasive wheels instead of NamPower silicon carbide wheels.

All NamPower composite hub wheels are available in different trim lengths and face widths. They come in a variety of grit sizes, too. Which NamPower nylon abrasive wheel brush do you need for your deburring, edge radiusing, or surface finishing application? Download the NamPower Resource Guide to learn how to choose and use these composite hub wheels. Complete the form to get started.