Hand Scratch Brush

ing Tools
Toothbrush-Style

Brushes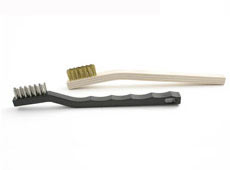 Toothbrush-style hand scratch brushes from Brush Research Manufacturing (BRM) are ideal for hand deburring, thread cleaning, and removing rust or corrosion.
These toothbrush-style hand scratch brushes come in three different widths (1/4", 3/8", and 1/2") and are available with stainless steel, brass, nylon, or natural filaments. Choose brushing tools that are staple-set in wood or molded in plastic. Applications include engine block cleaning.
You'll find these and other brushing tools in the BRM Product Catalog. Complete the form on this page and download your copy today.