Made In the USA metalworking Tools
Power Brushes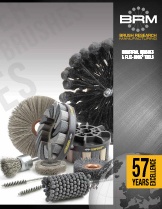 Power brushes are metalworking tools for cleaning, polishing, blending, deburring, surface preparation, and surface finishing. They are available in many different sizes and types, and can be used with handheld power tools and machinery.
Major categories of power brushes include wheel, cup, and end brushes. BRM also supplies mini-grinder power brushes, encapsulated brushes, pilot bonding brushes, flare brushes, and adapters for power brushes are also available.
Wheel Brushes
Wheel brushes are wheel-shaped brushing tools with metal, nylon, abrasive nylon, or Tampico filaments. Nylon abrasive wheels offer a safe, non-reactive alternative to wire brushes. NamPower composite hub wheel brushes provide high-performance, cost-effective brushing.
End Brushes
End brushes clean, blend, polish, deburr, and prepare surfaces in small, tight, or hard-to-reach spaces. These power brushes have solid wire or knotted wire filaments, and are also available with a circular, flared design. For fast, positive cutting action, encapsulated solid end brushes are a good choice.
Cup Brushes
Cup brushes come in a variety of diameters and use either metal wire or abrasive nylon filaments. Wire cups with steel filaments are best-suited for preparing and deburring large metal surfaces. Nylon abrasive cup brushes are recommended for light deburring, edge blending, and general surface finishing.
Find the Power Brushes You Need
For more information about power brushes from Brush Research Manufacturing (BRM), watch the video below and download the BRM Product Catalog.