Hydraulics and Pneumatics Magazine
Flexible Honing for Hydraulics and Pneumatics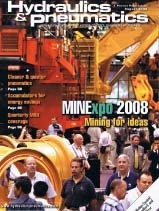 For optimum performance and seal life, the bores of hydraulic cylinders require a smooth, clean surface finish that's free of rust, corrosion, and accumulated deposits. Torn, cut, and folded metal along the cylinder walls can also contribute to mechanical failure and premature seal wear.
Pneumatic cylinders require a smooth, burr-free surface finish, too. Maintenance personnel have a variety of tools and techniques available, but Flex-Hone® tools from Brush Research Manufacturing (BRM) offer numerous advantages. For example, they're portable and also available in a large diameters for bigger bores.
Learn more now. Download the article from Hydraulics and Pneumatics.