Cutting Tool Engineering Magazine
Automate

d

Deburring

For

Chamfered Through-Holes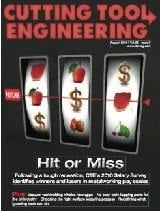 Aerospace parts need smooth, precise through-holes. That's why a major jet engine component manufacturer uses Flex-Hone® tools from Brush Research Manufacturing (BRM) to automate the final deburring of chamfered through-holes.
BRM Flex Hone® tools mount in machining centers and remove the burrs and caps that are created when holes are drilled in metals such as nickel, Inconel, Waspalloy, titanium, and stainless steel.
In addition to aerospace, Flex Hone® applications for the automated deburring of chamfered through-holes include the automotive, semiconductor, and medical device industries.
Learn more now. Download "Smooth Flight" from the August 2010 edition of Cutting Tool Engineering magazine.